Dairy Gets a Positive Reception at the House of Commons
The combination of a scorching hot summer's day in the capital and the imposing setting of the House of Commons are enough to get anyone hot under the collar, but Jenny and Mark Lee were able to keep themselves and, more importantly, a selection of Torpenhow organic cheese cool enough for the enjoyment of parliamentarians.
Organised by Sarah Peacock and the British Dairying magazine, Jenny and Mark were invited to represent a cross-section of UK dairy producers at the House of Commons on Wednesday 13th July.
Along with them were representatives from across the UK dairy sector including very large organisations such as Arla Foods and Delamere Dairy, leading cheesemakers Long Clawson Dairy, and independent producers of cream and yoghurt, ice cream and gelato, butter and cheese and, of course, milk.
Billed as a 'Celebration of British Dairy', the House of Commons briefing was arranged by Alicia Kearns, the MP for Rutland and Melton and also the Chair of the All-Party Parliamentary Group (APPG) for dairy.
All-Party Parliamentary Groups are informal, cross-party groups formed by MPs and Members of the House of Lords who share a common interest in a particular policy area, region or country.
The Dairy APPG was set up with the purpose of providing a forum for parliamentarians to discuss issues and points of interest for the UK dairy industry, an approach which helps to ensure they are "fully briefed on developments in the dairy supply chain and to support the development of a sustainable and profitable dairy industry."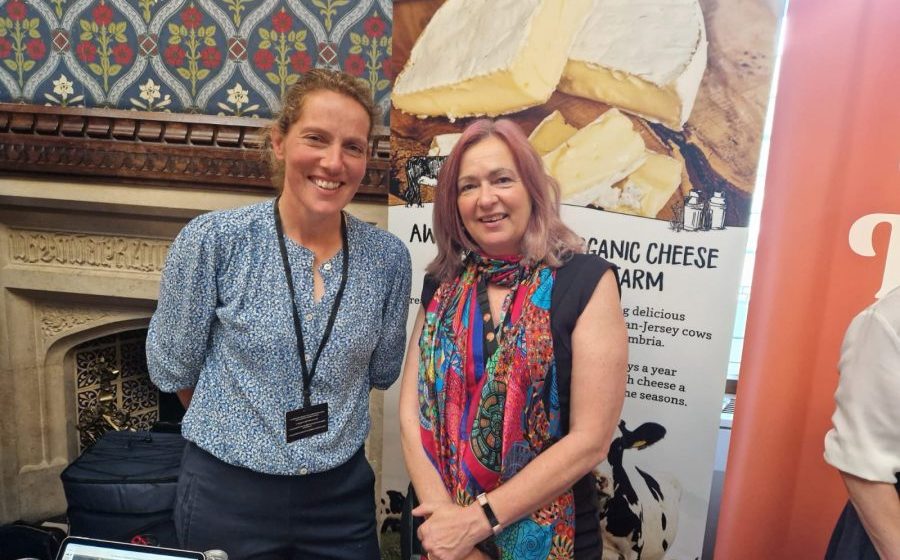 Pictured: Jenny Lee of The Torpenhow Cheese Co. with MP Liz Saville Roberts
Alan Whibley, MD and Publisher of British Dairying magazine, commented: "I was delighted, in melting heat, that some 40 or so producers and equal number of MPs came together for a tasting in the House of Commons, a sharing of issues and a welcome chance to influence policy."
Mark Lee from the Torpenhow Cheese Company: "Firstly, we'd like to thank Sarah and British Dairying for inviting us to take part at the event, it really was a privilege to be alongside so many leading names in our sector."
"It was also very heartening to receive such a positive response from our audience; naturally they enjoyed the chance to sample our cheeses but there was also genuine interest in our conversion to organic and regenerative farming."
"Sustainability is obviously very high on the political agenda, and this extends to supporting the ambition for the UK to produce as much of its own food as possible. We hope that they got a flavour of what dairy producers and the supply chain around us are doing to meet these challenges."
Main article image: Mark Lee of The Torpenhow Cheese Co with Paul Eggleston, Director, Acre Hill Farming Ltd.