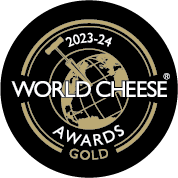 World Cheese Awards, Trondheim, Norway 2023
'A truly global cheese event, World Cheese brings together cheesemakers, retailers, buyers and food commentators worldwide to judge over 4,000 cheeses from over 40 countries. The World Cheese Awards took place in Trondheim, Norway in October 2023'
Cheeses are sent from all round the world to be judged in a single day by carefully assembled teams of technical experts, buyers, retailers and food writers.
Judges work in teams of three, to identify any cheeses worthy of a gold, silver or bronze award. They looked at the rind and the body of the cheese, its colour, texture, consistency and, above all, its taste.
Mark, Jen and family joined our cheese entries in Norway at the end of last month and it's just as well they did! Coming home with a further 3 medals, one being a Gold Award, this time for our Smoked Cheddar, it was certainly a great way to finish the Lee family's time in Norway. and a half term holiday the young Lee's won't forget.
"We were delighted to win a Gold medal for our Smoked Cheddar and a Bronze each for our Park House and Trusmadoor at the World Cheese Awards in Trondheim, Norway, said Mark Lee. "The Guild of Fine Foods event attracted over 4500 entries from all around the globe and with over 200 world class judges the event was truly world class. Together with our 3 star Great Taste award for our Darlinghowe, this year has been an enormous success for our small family farm cheese business. Thank you so much for your support so far in our journey and please contact us if you want more of our award winning cheese for your Christmas festivities. p.s the road trip through Norway to get to the awards was special if not a little cold!!"
Further information on how to purchase cheese for Christmas is coming soon!