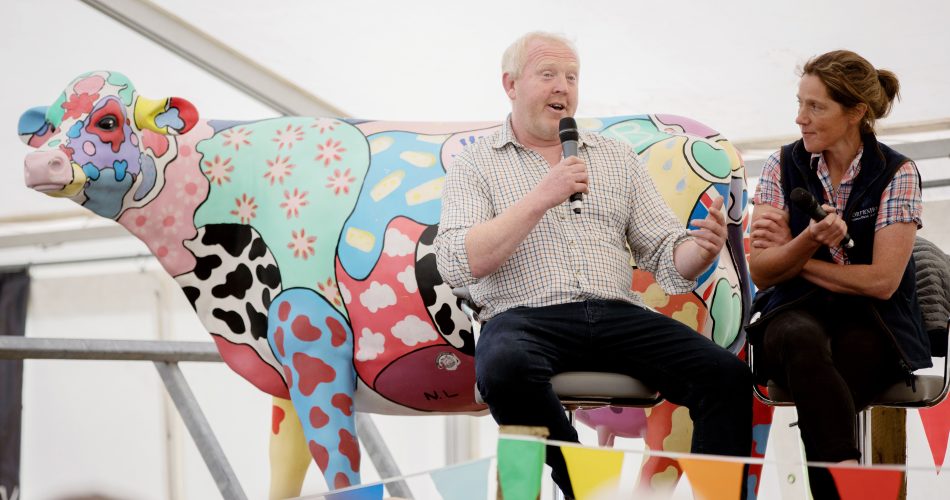 Hosting 'Down to Earth' with the RABDF
"On Thursday 8 July Park House Organic Farm in Torpenhow hosted over 1000 participants for Down To Earth North, a regenerative farming conference, in partnership with the Royal Association of British Dairy Farmers (RABDF). Farmers from as far afield as East Sussex, Devon and the Isle of Bute congregated on the Stack Yard field to listen to world renowned speakers and regenerative farmers. It was well supported by many local firms, in particular First Milk who have adopted a very strong position regarding the benefits to their members of adopting a regenerative farming approach.
The event included 4 panel discussions on the main stage focussing on soil health, rotational grazing, building a brand, reducing chemical inputs and the power of resting swards. 3 farm tours with several hundred on each walk, attended 4 more talk stations including water management, soil health, pasture management and woodland usage. Several demonstrations of electric farm vehicles, overseeding and minimum till machines were conducted on the surrounding paddocks. Mark Jenkinson MP attended and provided an opportunity for the speakers including local dairy farmer and Vice chair of the RABDF Robert Craig, Rob Percival, author of the Meat Paradox and Mark Brooking of First Milk to pose questions to him about the future direction of Agricultural policy.
Several break out clinics including a panel discussion on 100% pasture fed dairy herds were held and were so well attended they were standing room only. It was a fantastic national event to showcase the award-winning cheese made on farm and also to introduce a wider audience to the newly formed Three Hills Gelato. These products showcased the potential in every dairy farmer's bulk tank and a great way to engage with and directly supply the local community.
Park House was selected to host the event by the RABDF in recognition of their approach to regenerative farming over the passed 6 years. This includes being an organic farm and Cumbria's only certified Pasture for Life herd, incorporating 3 kilometres of new hedgerows within the mob grazing system and 40 acres of wooded pasture, working with Cumbria woodlands and other external partners.
Following the conference, a meal for 80 attendees from the industry, sponsors, pasture for life farmers and RABDF was hosted in the sandstone wedding venue Three Hills Barn. Michelin starred chef Ben Queen-Fryer of the Dog & Gun, Skelton prepared locally reared mutton, beef and pork sharing platters, individual Trusmadoor cheese and chive soufflés wowed the diners and the event was topped off with farm made yoghurt gelato and honey produced at Park House."